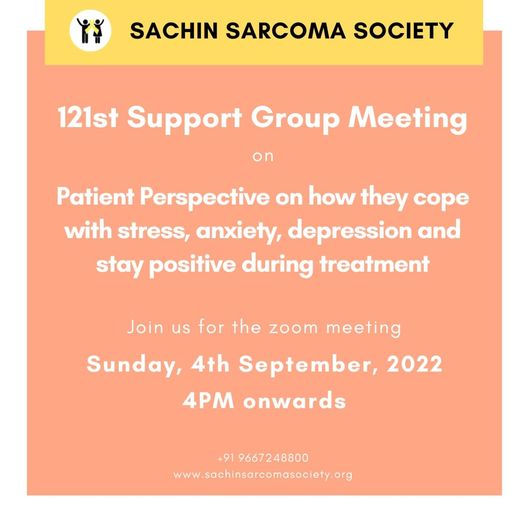 Many times #sarcoma#cancer#patients experience #negative#emotions and during their treatment, they start losing #hope, become impatient, get #depressed and develop #stress and #anxiety and keep thinking about their future. This keeps them in a negative shell. This is a common problem faced by all patients irrespective of what #cancer they are having.

To address these concerns, we are doing our 121 th #supportgroup meeting of Sachin Sarcoma Society on Sunday and hearing some #patientperspectives on their ways or methods of engaging themselves so that negativity does not take control over the mind and patients stay #positive during the treatment. Also, this is a platform where new patients can interact with old patients and build #companionship with each other.
We have organised 121 th support group meetings last Sunday where many survivors and patients on treatment shared their perspectives on coping with stress anxiety and depression caused during treatment.
1) Sagar, synovial sarcoma shared his journey and mentioned how he focused on sports and had a never say die attitude while going through the treatment of cancer.
2) Dr Mayur – Ewings sarcoma survivor shared his journey.
3) Bir Singh- shared his journey on how he is having a stable disease while being on pazopanib. He also emphasized that family support is very important during the treatment.
4) Santosh – shared how positive affirmations, spiritual knowledge and strengthening his mind by doing meditation helped him to stay positive during his treatment.
4) Sumita Ghosh – an Ewings sarcoma survivor shared how she completed her treatment courageously and vented out all negative emotions in her diary. This has helped her emotionally to cope better along with her husband's support.
5) Akshay hans – caregiver of his mother Mrs Veena Hans, LMS patient shared her journey and how important it is to focus on something that makes you happy.
Concerns of patients were addressed by Ms Divya and Ms Nayana. 42 patients joined the session.
We thank all patients for joining